Braised Sauerkraut & Ribs
A great German dish with a modern twist to amaze your customers.
Chef Christian Krüger combines traditional German dishes with the latest trends. Top-quality and carefully selected ingredients are extremely important to him. That's why he prefers to buy METRO own brands. Moreover, he is also sharing his experience and expertise within the development process of our own brand articles and he's also traveling to other continents to get inspired to create unique METRO recipes. Since Christian is always curious about improving traditional dishes, you should definitely try out his variation of sauerkraut!
Sie brauchen
METRO Chef Midi Potatoes pre-cooked
METRO Chef flat leaf parsley
METRO Chef medium-sized onions
METRO Chef wine sauerkraut
aro salt and pepper to taste
Zubereitung
Step 1
Season the spareribs with salt and pepper and roast them in a large frying pan.
Step 2
Add the beef broth and place the pan with the spareribs into the oven at 180°C for 40 minutes. Filter and reduce the gravy.
Step 3
Roast the potatoes in butter with chives and parsley then season with salt and pepper.
Step 4
Put the lard in a roaster, cut the bacon into small pieces and brown it lightly, then cut the onion finely, add it and sweat briefly.
Step 5
Add the sauerkraut. Sprinkle sugar on top and pour a little bit of water and the pineapple juice over it. Cut the pineapple rings into pieces and add them. Braise for approx. 30 minutes over medium heat, stir occasionally.
Step 6
Place the roaster into the oven. Braise for 30 – 40 minutes at 175°C. Stir repeatedly, adding more liquid if needed. The sauerkraut is ready when it has a nice brown color.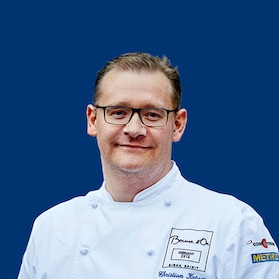 "By adding a touch of creativity to traditional dishes, we can build a one-of-a-kind menu to impress your customers with."
Christian Krüger, METRO Chef, Winner of Bocuse D'Or 2014